Á hátíðinni Fashion Film Festival eru sýndar tískumiðaðar heimildamyndir. Haldnir verða viðburðir með sýningum og með því stefnt að því að auðga fagsamhengi tísku hérlendis sem og að gefa nemendum í faginu tækifæri til að koma sér á framfæri og hitta aðra innan fagsins.
Markmið hátíðarinnar er að stefna saman fagsamhengi og áhugafólki, skoða áhrifamikla listamenn tískunnar og minna á mikilvægt samtal um umhverfisáhrifin sem iðnaðurinn hefur á heiminn.
MIÐAVERÐ
-Stakur miði (pr.sýningu): 1600 kr
-Hátíðarpassi (4 myndir): 5200 kr
-Afsláttarverð fyrir nemendur og fagaðila (afsláttarkóða er hægt að óska eftir með því að senda póst á alfrunp@gmail.com)
MIÐASALA: https://tix.is/is/bioparadis/buyingflow/tickets/7130/
WE MARGIELA
HVENÆR: 20. NÓVEMBER
KLUKKAN: 20.00
FYRIR SÝNINGU MUNU NEMENDUR Á ÖÐRU ÁRI FATAHÖNNUNARDEILDAR LISTAHÁSKÓLANS SÝNA AFURÐIR "MISBRIGÐA",
UNNIÐ Í SAMSTARFI VIÐ RAUÐA KROSS ÍSLANDS
We Margiela skoðar óþekkta sögu tískuhússins Maison Martin Margiela. Í samtölum við meðstofnanda þess og skapandi teymi tískuhússins er veitt náin innsýn í einstakt ferli og hugsjón tískuhússins, nokkuð sem ekki hefur fengist gert áður.
Sýnishorn: https://vimeo.com/235716353
THE TRUE COST
HVENÆR: 21. NÓVEMBER
KLUKKAN: 20.00
AÐ SÝNINGU LOKINNI VERÐA UMRÆÐUR Í SALNUM. UMRÆÐUM STÝRIR FATAHÖNNUÐURINN RAGNA FRÓÐA. AÐRIR ÞÁTTTAKENDUR VERÐA TILKYNNTIR SÍÐAR.
Hvaðan koma fötin þín? Hvert fara þau þegar þú ert komin með nóg af þeim? Og hvernig stendur á því að þú getur keypt þér buxur á 5000 kall?
The True Cost er með mikilvægari heimildamyndum samtímans en hún varpar hulunni af myrkri hlið fataiðnaðarins með myndefni frá ýmsum heimshornum og úr mismunandi hornum iðnaðarins.
Sýnishorn: https://vimeo.com/125952936
ADVANCED STYLE
HVENÆR: 22. NÓVEMBER
KLUKKAN: 20.00
Advanced Style er heimildamynd sem fylgir eftir sjö konum búsettum í New York. Það sem þessar konur eiga sameiginlegt er að vera allar eldri en 60 ára og er einstökum stíl og lífi hverrar konu gefið pláss.
Sýnishorn: https://vimeo.com/158235028
McQUEEN
HVENÆR: 24. NÓVEMBER
KLUKKAN: 20.00
Hér ber að líta nýja hlið fatahönnuðarins Alexander McQueen. Við fáum að sjá persónulegar upptökur sem hafa ekki litið dagsins ljós áður og fáum nána innsýn í drauma hans, hræðslur og langanir. Áhorfendur fá að fylgja honum eftir og upplifa einstakan listamann sem lést fyrir eigin hendi langt um aldur fram.
Sýnishorn: https://vimeo.com/267812877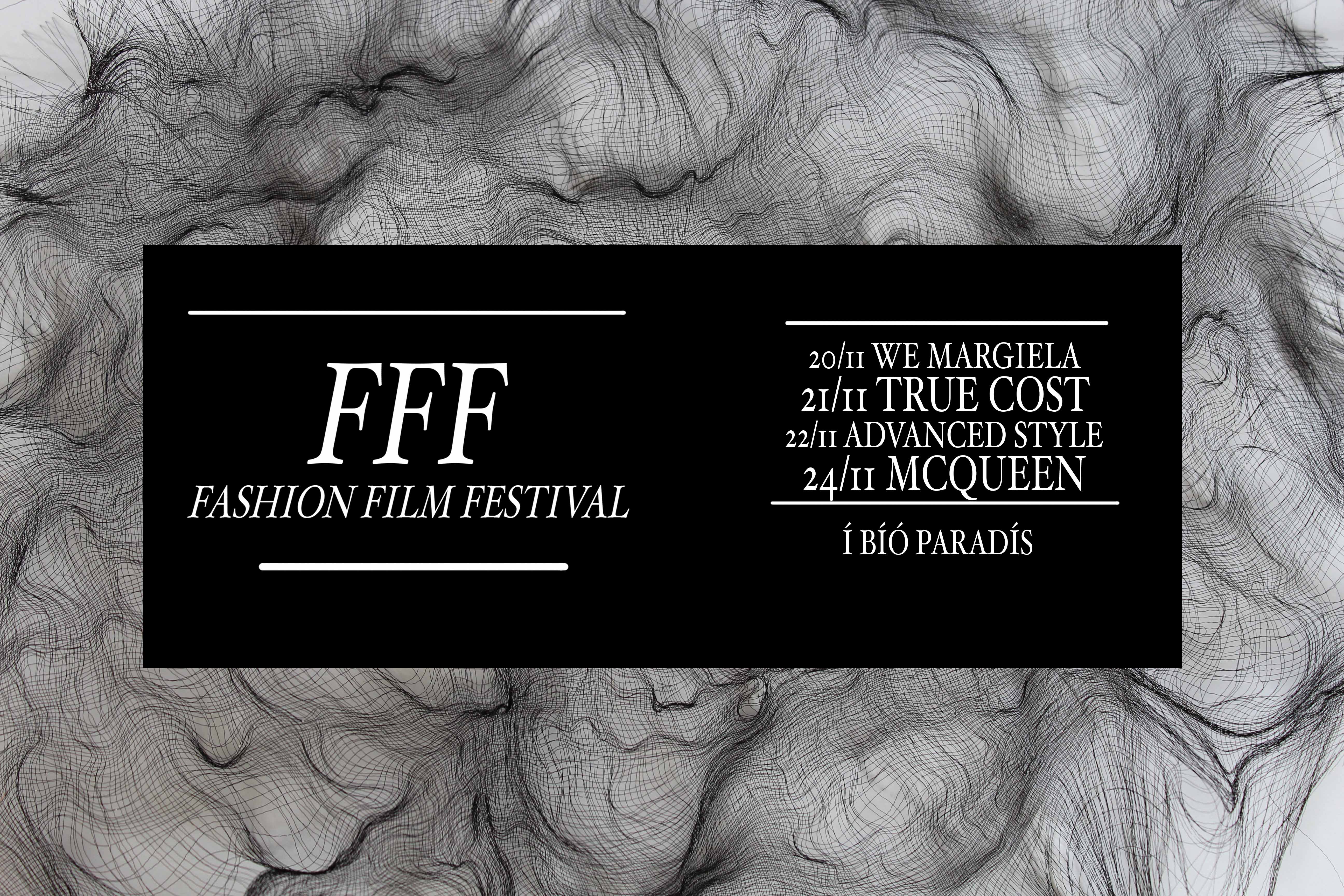 Fashion Film Festival focuses on fashion oriented documentaries. Events will be hosted alongside screenings as to add to the experience of the screenings as well as adding to the conversation in fashion here in Iceland.
The purpose of the festival is to create a common space for professionals, students and people with an interest in fashion. We look to artists within the fashion industry while focusing on the important conversation about environment and morals surrounding phenomena such as 'fast fashion' and youth as fashion's focus.
TICKET PRICES
-Single ticket (pr. film): 1600 kr
-Festival pass (4 films): 5200 kr
-Discounted price for students and industry professionals (discount codes can be asked for by sending an e-mail to alfrunp@gmail.com)
TICKET SALE: https://tix.is/is/bioparadis/buyingflow/tickets/7130/
WE MARGIELA
WHEN: 20th NOVEMBER
TIME: 20.00
BEFORE THE SCREENING STUDENTS FROM THE FASHION DEPARTMENT OF THE ICELANDIC ART ACADEMY WILL SHOWCASE PIECES FROM "MISBRIGÐI"
A COLLABORATION WITH THE ICELANDIC RED CROSS
We Margiela tells the untold story of the enigmatic and singular fashion house Maison Martin Margiela. For the first time, co-founder Jenny Meirens and the members of the creative team that stood at the heart of the house talk extensively about the creative processes and unique philosophies of the Maison. Their stories, told through detailed and intimate interviews, offer unprecedented insight into the genesis and unravelling of one of the most influential fashion houses of our time.
Trailer: https://vimeo.com/235716353
THE TRUE COST
WHEN: 21ST NOVEMBER
TIME: 20.00
AFTER THE SCREENING THERE WILL BE A PANEL DISCUSSION REGARDING THE ISSUE. THE DISCUSSION WILL BE LEAD BY DESIGNER RAGNA FRÓÐA. OTHER PARTICIPANTS TBA.
This is a story about clothing. It's about the clothes we wear, the people who make them and the impact it's having on our world. The price of clothing has been decreasing for decades, while the human and environmental costs have grown dramatically. The True Cost is a groundbreaking new documentary film that pulls back the curtain on an unseen part of our world and asks us each to consider, who pays the price for our clothing? The True Cost is an unprecedented project that invites us on an eye-opening journey into the lives of the many people and places behind our clothes.
Trailer: https://vimeo.com/125952936
ADVANCED STYLE
WHEN: 22nd NOVEMBER
TIME: 20.00
Advanced Style is a documentary that examines the lives of seven unique New Yorkers whose eclectic personal style and vital spirit have guided their approach to aging. Based on Ari Seth Cohen's famed blog of the same name, this film paints intimate and colorful portraits of independent, stylish women aged 62 to 95 who are challenging conventional ideas about beauty, aging, and Western culture's increasing obsession with youth.
Trailer: https://vimeo.com/158235028
McQUEEN
WHEN: 24th NOVEMBER
TIME: 20.00
Portraying his life from his debut collection through to the tragedy of his premature death, "McQueen" is a film that evokes Lee McQueen's unique vision, originality and maverick sense of humour. The transformative impact of his personality and his work is captured in never-before-seen home movies, audio tapes and "behind-the-scenes" footage shot throughout his career. This material is stitched together with deeply personal interviews from close family, friends and collaborators and cinematic original material that takes us on a journey into McQueen's mind. His fears, dreams, obsessions, desires and nightmares are on screen for the audience to re-live along with the most memorable and iconic moments in his shows – like nothing the fashion world has ever seen before, or since. The film allows us to search deeply into what made the man a unique artist of his times, as well as helping us to understand the mystery of why, at the height of his acclaim and power, he shockingly made the decision to end to it all.
Trailer: https://vimeo.com/267812877